I am really not good at keeping up with these, but here are a few things that kept me busy over the last couple of weeks.
Member of Parliament Peter Julian throws a heck of a Lunar New Year event every year, and this Year of the Rat was no exception. Being at the Nikkei Centre in Burnaby, it attracted more Burnaby folks than New West, but there were a bunch of cultural displays from around southeast and east Asia, mercifully short speeches from the elected types, and general good feelings all around.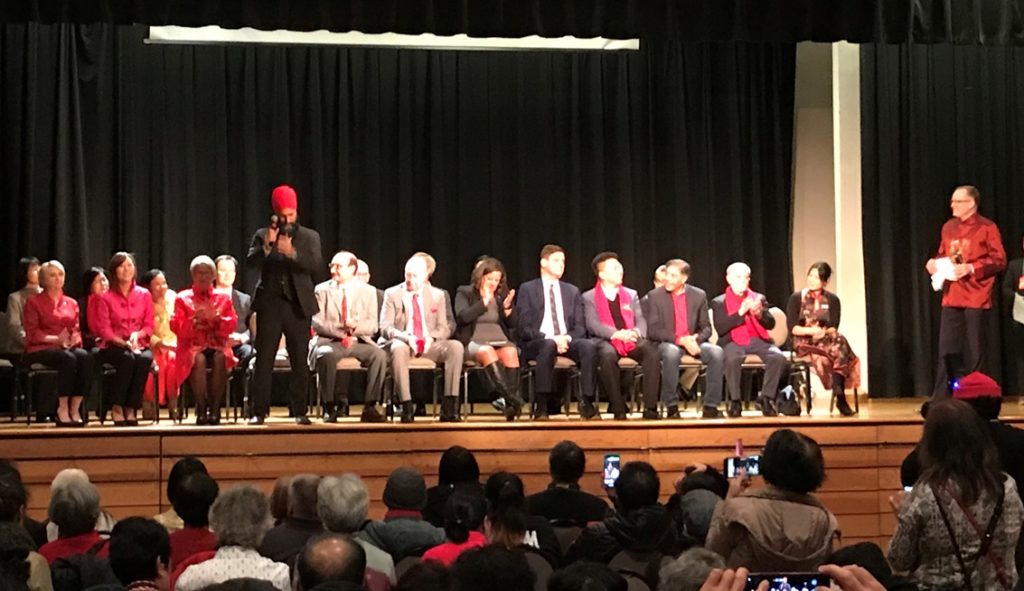 The same day, New Westminster was able to cut the ribbon on one of our significant facility investments of the last few years: a new Animal Shelter in Queensborough. The old shelter was small and pretty, uh… lived in. The new shelter has enough capacity to accommodate the cats, dogs, and various smaller animals that find themselves abandoned in New West, and the dedicated staff and volunteers finally have appropriate workspaces to do their compassionate work.
The opening was really well attended with hot dogs (natch) cake, music, face painting, and tours of the facility. The Mayor and I both took our bikes to the opening, and enjoyed a QtoQ ride back on a cold but sunny day. It was good to see the service being used, even a few full boatloads. Not perfect for the few people has to wait 15 minutes for the next sailing, but a good sign for the popularity of the service.
The 2020 Push Festival included a couple of shows at the Anvil Centre, and I was able to attend one called "What you won't do for love". This was kind of a play with video montages, but more of a staged read-through of a play still in development. It was the story of David Suzuki and Tara Cullis, told in an engaging format centered around them telling vignettes from their history together at a dinner party. The themes were (of course) about life-long activism and conscience-raising about the environment, but it also talked about a relationship between two life loves, partners, and conspirators.
I have talked about David Suzuki and my mixed feelings about him before in a review of an earlier documentary about his life, and have been at events where he has spoken before, but I have never seen him act as vulnerable or deferential before as when he was sharing a table with Cullis. Perhaps their stories leaned a little heavily on the lateralization of brain function as a determinant of personality (ugh), but the conceit allows them to talk about how they rely on each other and work together. My mixed feelings aside, it was an interesting and informative event with a fair amount of emotional baggage attached, and the almost-full-room crowd was definitely engaged!
In the less performance category, there was a stakeholder workshop for the proposed Hume Park Master Plan. People from (mostly) Sapperton and identified user groups (Lacrosse, Rugby, HUB cycling, etc.) were asked about how they view Hume Park, what they would preserve, and what they would change. I am not a common user of Hume (though I ride my bike through it often!) so I was mostly there to listen and learn about what is most valued in the Park. I also learned that Fred Hume was not only the Mayor of New Westminster, but went on to be Mayor of Vancouver (though he lived in West Vancouver!), founded the radio station now known as 102.7 the Peak and the Vancouver Canucks, and is in the both the Hockey and Lacrosse Halls of Fame. Yikes.
We also had a series of consultations over the last couple of weeks on waste and recycling service. Not sure if you heard, but the recycling centre by the Canada Games Pool has to move to accommodate the construction of the new pool, which is anticipated to start in the next couple of months. This doesn't mean the City is abandoning recycling, only that we are going to have to change how we deliver recycling. This consultation was meant to help staff understand what the main drivers of recycling are, and what barriers there are to recycling.
At the event I attended, there was a lot of discussion, some people disappointed about the movement of the current yard, some not that fussed about it, and mostly a lot of curiosity about things like collecting curbside glass or limits on green waste. I only wish the participation represented a more representative example of New West residents.
A few of us also attended the announcement at Pier Park that the main contractor has been hired for the Pattullo Bridge replacement project, which I already talked about here.
Aside from that, I had a couple of Task Force meetings, lunch with Councillor Dupont from Coquitlam to talk about Lower Mainland LGA business at a busy River Market, and a meeting over coffee with a couple of members of the New West Fire and Rescue service to touch bases on some of their opportunities and concerns.
I also got a couple of sunny bike rides in!