Comments on the NWEP's forum on the future of Sustainable Transportation, held at Douglas College on November 9th, 2010. – Part 3, Joe Zaccaria for South Fraser OnTrax.
I like the theme Joe Zaccaria brought to his presentation, especially as it came right after Jerry's discussion of the Olympic transportation success. Each slide started with a headline from the media, and drew the contrast:
Before the Olympics: "Olympic Transportation Plan draws Widespread criticism"
After the Olympics: "Vancouver Becomes a Transit City for 17 Days".
Which reflected one of the themes of the evening: developing a vision, following with good planning, leading to predictable and desirable results.
Joe was clear about how South Fraser OnTrax sees their role:
"We don't protest – we engage"
I like that idea as well. To me, the difference is developing positive ideas and bringing those to the decision makers (depending on the issue: those may be government staff, elected officials, a private enterprise, or the population in general) and hope they see the idea as viable. Protesting too often concentrates on the negative, after all there must be something to protest against. Protest has place. I still think that the massive public protests leading up to the Iraq invasion in 2003 were a big reason that the Canadian government decided not to get involved in that enterprise. I am proud of having taken part in those protests. It was the only thing we could do. But protest with no specific complaint other than "things have to change" inevitably devolve into unproductive messes, with poorly defined messages and no ideas on how to effect change offered. /rant
So what does the future hold for South of the Fraser, and how does that affect New Westminster?
Joe brought a compelling pile of numbers, stats and maps, giving us a good sense of the rate of growth across the bridges. Surrey will have more people than Vancouver at some point in the future, and the Langleys will become the "Burnaby" of this new regional centre. Far from being a "bedroom community", there are more jobs in the Langleys than there are residents: and more than 80% of people living and working South of Fraser don't cross the River for work. The $3.3 Billion Port Mann / Highway 1 Project will do nothing for this 80%.
Joe also provided some details around the Langley City / 200th Street corridor (where 65% of the population of the Langleys live: a proportion projected to grow to 80%). With more than 76,000 people living within a kilometre of this road, and projected growth topping out at 184,000 people, why are we waiting to build rapid transit on this corridor?
The same story goes for the centre of Abbotsford, where the "horseshoe" growth pattern from the Historic Downtown along South Fraser Way to the Cascade-Airport commercial area is ripe for rapid transit development. The population is there now, and there will be 60% growth: the time is now to build the infrastructure that will support more sustainable transportation.
Joe and the OnTrax folks know a lot about the technologies available. They seem to favour the Portland-style streetcars or light rapid transit. Busses just don't attract new riders (like it or not) and Skytrain's huge initial cost rarely offset the benefits. This was demonstrated with Patrick Condin's diagrams discussing the cost of Skytrain to UBC, and how that would translate into Light Rapid Transit (click to grow sustainably):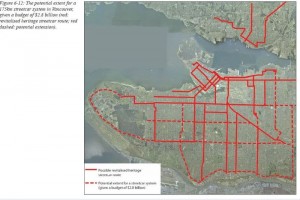 But how does this relate to New Westminster? As has been obvious from recent discussions, most of New Westminster's traffic woes are caused by people driving through the City, not by trips initiated in the City. This problem may become worse with the inevitable growth South of Fraser: but only if our transportation infrastructure investments are all dedicated to building bridges and freeways, and not viable alternatives that meet the needs of that 80% of South of Fraser residents who don't want to drive through New Westminster every day.