I heard Gordon Hobbis on CBC Radio's "The Morning Edition" on Wednesday the 16th (you can stream it here, he was on about 1:40 in) talking about the United Boulevard Extension, and it got me thinking about Gord's business: Caps Bicycles.
First off, Gordon did a great job on the radio. He hit the right points, and really addressed the concerns the neighbourhood and the entire City have about the UBE. This despite the efforts of Rick Cluff, who not only sees the world through a windshield, but is one of the all-time worst radio interviewers (you can hear him reading the questions off the sheet, as opposed to engaging in a conversation), OK for sports reporting in Ontario, and he sure likes talking about food, but his lack of intellectual depth or nuance is fairly exposed when the conversation turns the least bit political. Locally, see Stephen Quinn for the opposite: he actually asks smart questions, uses the interviewee's responses as a launching point for follow-ups, even if this means putting them in an uncomfortable spot, or pointing out their own contradictions…but I digress.
I actually grew up in a bike shop. When I was 7 or 8, my parents bought a small-town sports store specializing in team sports, shoes, bikes and cross-country skis. My Mom became a local legend for her skate-sharpening skills, with figures skating clubs across the Kootenays sending her bags of skates on the Greyhound, which she would stay up late sharpening so they could be shipped back out on the next bus. My Dad put 20+ hours a week in as well, on top of his regular 40-hour job as an engineer. I learned a lot from growing up around that, mostly about the rewards of working hard, about how boredom could only result from laziness, and about being part of a community instead of just living in it.
But mostly, I learned to love bicycles. I remember changing my first flat tire when I was 8 or 9. I remember disassembling all of my first bikes to their bare parts, only to see how they go back together, and I remember a 1982 copy of Bicycling Magazine that talked about "The Klunkers of Marin County": my first introduction to what we came to know as mountain bikes. With my parents running the store, I had access to bikes. I had my first real mountain bike (a pretty marginal Raleigh) by 1984, and my second (a sweet lugged and brazed triple-butted chromoly number from Miyata) by 1985. By the time I bought mountain bike #3, my parents had sold the business, and so I went out to the open market.
?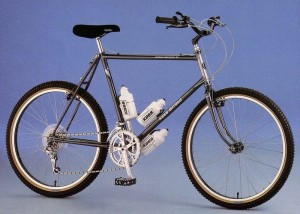 Bike #2 – Ridge Runner SE (it was actually a 1985-1/2 model)
By 1987, the mountain bike boom had exploded. Within about 5 years, bike shops went for selling 90% "ten speeds" to selling 90% mountain bikes, and they were selling more bikes than ever before. The twin drivers of new technology advanced around mountain bikes and the emergence of Shimano SIS, along with North American cyclists like Greg Lemond, Andy "Hamstrings" and Steve Bauer finding success in Europe, cycling was momentarily cool.
The biggest bike dealer in BC was easily Caps. Even in the Kootenays, we knew of Caps, it was a big chain and always had the lowest price. So it passed that when I graduated from High school I bought my third mountain bike from Caps. It was a 1987 Diamond Back Arrival. TIG-welded 7000-series aluminum frame (rare at the time), Deore XT components, seat-stay mounted U-brake, biopace, Araya RM-20s; this puppy was state of the art for a factory-built bike. I seem to remember is selling for $1050. And I rode the hell out of that bike for at least 4 years. Eventually it saw ubiquitous upgrades like a Syncros Stem, a Hite-Rite, and Specialized Ground Control tires. It was the bike I brought down with me in 1988 when I first moved the New West. It was the bike I put slick tires on to work as a bicycle courier in downtown Vancouver. It was the bike I raced over Vedder Mountain in those "classic" races. It was the bike that opened up Burnaby Mountain trials to me, and was the bike I had when I helped build Nicole's trail, one of the most venerable trails on that hill. I loved that bike.
My First bike from Caps… State of the 1987 art.
Then I started paying my way through school working in other bikes shops, in the Kootenays, in Vancouver and North Van. As the Diamond Back got old, I bought a Scott Pro Racing (Tange prestige, XT, Scott self-energizing brakes, and my first set of Rock Shox RS-1s), a Giant Cadex CFM-2 (aluminum lugged carbon fibre, Suntour, Rock Shox Mag21s), then another Cadex CFM-2 (same frame, AMP parallelogram front fork(!) and the last set of thumbies I would ever own (alas)). This was replaced by my first Rocky Mountain Blizzard (Marzocchi XC-600 forks, XT, gripshift, and Magura hydraulic cantilever brakes), then another Blizzard (Bombers, XT, RaceFace, V-brakes) that I still use for commuting, and now my SantaCruz Blur named Morton. That is my mountain bike history, in a nutshell. Road bikes are another matter, as are commuters.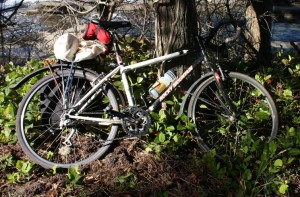 Liz 2 – my 2nd Blizzard, now an uber-commuter and light tourer.
Now it has been 10 years since my last bike shop job (Blizzard #1 was the last bike I didn't have to pay retail for), and I generally hate going in bike shops. Actually, I love going in bike shops, I hate going in with the intent to buy, as more often than not I know more than the sales guy I am working with about the product I want to buy, I am a terribly picky customer and have little patience for the marketing hype (don't get me started on "riser" handlebars) and the entire sales/snob side of the cycling industry just irritates me. That said, The iCandy has purchased both of her last two bikes from Caps: a Devinci road bike for training and Grand Fondos, and another Devinci hybrid for commuting. She has a hard time finding bikes that fit her well, and both Devinci and the staff at Caps have done a good job for her. I can go in and talk to Gord or Marie or anyone else there and 90% of the time, get what I need (and the other 10% of the time, the thing I need doesn't exist anymore…my list of bikes above makes me look like an early adopter, but I am now pretty far to the retro-grouch end of the spectrum).
It is also great to support someone who lives and breathes his community. Gord is the driving force behind Sapperton Days, an event embraced by the entire community. He serves on community committees (including previously on the Pedestrian and Bicycle Advisory Committee, where I got to know him better), and he is always up for discussion about the local events of the day. I think (from my young memories), that is how my parents were: selling baseball equipment but also coaching and providing uniforms for community teams (sponsoring 8-year olds… funny when you think about it), renting XC skis, but also providing a sales location (free of charge) for the local cross-country ski club to sell their passes. They didn't sell golf equipment (why compete with the Pro at the local club, who is a specialist in the field and a good guy?) but they served on the board of the community golf course… build the community and your customers will reward you.
So kudos to Gord, for running a community-based business, and building the community. And shame on anyone in New Westminster who buys a bike a Walmart.