CN asks—
Are there any plans in New West to plant bee-friendly/drought resistant native plants in medians and other city-managed land? I've noticed many enterprising residents have taken this task on themselves by replacing grass with curbside gardens that attract pollinators but I think there is a lot of opportunity for a city initiative in this area.
If you consider trees to be bee-friendly and drought resistant, then yes! But I think you had something else in mind, so before I talk about the trees, I'll talk about boulevard maintenance and pollinators.
"Boulevards" are the colloquial for that metre or two of grassy area between the road and the sidewalk in front of some residential properties in New West . If you have one in front of where you live, you most likely don't own it, but you are responsible for some maintenance of it. See this diagram put out by the City: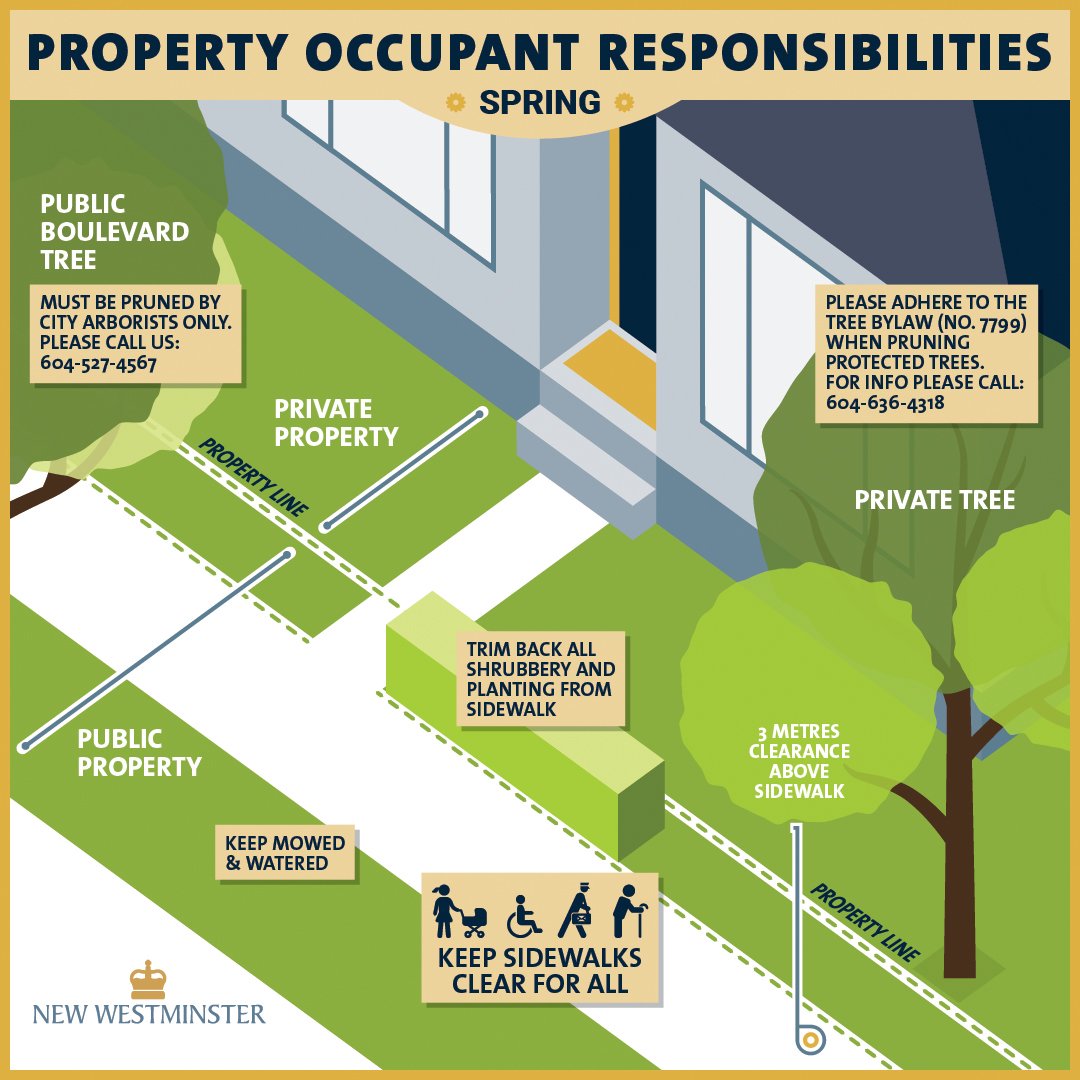 You may have noticed some boulevards like the one in the photo above are not your typical grass-with-the-occasional-tree, but have shrubs, flowers, even garden boxes. This may actually, technically, be against the law.
The City's Street and Traffic Bylaw states:
6.30 An owner of land shall:
1 cut grass and weeds on the Boulevard abutting that owner's property;
And
8.10 No person shall:
1 significantly alter a Boulevard without the consent of the City Engineer;
So that reads to me like you need permission to do anything on your boulevard except mow the grass and maybe water the tree, which is the thing you are you are required to do.
That said, some people have clearly done more, planting flowers, vegetables, and shrubs. Some have even gone so far as to install garden boxes, faux golf courses, and (I am not making this up) life-sized sculptures of harbour seals. The best advice I can give you is that you should probably not do anything that is a violation of City Bylaws. But, if you were to do something good for the environment like put a diversity of pollinating plants in your boulevard, I would avoid doing anything that will rise the ire of the City Engineer or Bylaw officers, by perhaps following a few tips:
Keep it neat so the neighbours don't complain. Keep it modest so that it doesn't restrict views or ingress for emergency responders. Don't let it intrude into the sidewalk space making the sidewalk less accessible for your neighbours. I would strongly recommend against putting any kind of structure, even garden boxes, on the boulevard, as they can create a hazard, and the City may have to remove them (at your expense!) if they need to access the boulevard for utility maintenance or anything of the sort. Remember the boulevard doesn't belong to you, so don't be surprised if the City one day has to remove anything you put there, either to dig up utilities or do sidewalk or curb and gutter repairs – if it is valuable to you, the boulevard is not a place to store it. Also, you need to be very, very careful about digging in the boulevard. Anything more than a few inches down and you may run into utilities (water, gas, fiber optics, street light power, etc.) and breaking one of those lines could be an extremely expensive fix for you, or even dangerous. Finally, any digging, piling soil, or installing things like planter boxes within the critical root zone of the City's boulevard trees is a violation of the City's Tree Protection Bylaw. The root zones are really sensitive to damage or compaction.
Now, back to the City's plans. Yes, we are working on pollinator gardens (I even talked about this during the last election campaign). I don't think these will be on City boulevards so much as replacing some less ecologically diverse areas of green space in City Parks. Replacing programmed grassy spaces, or planters that have traditionally held annual flower plantings with native and pollinator-friendly plant species has already begun with our first installation at Sapperton Park with help from the NW Horticultural Society. And hopefully more will be coming from this soon, though I am not sure our public boulevards will shift this direction. As beautiful as pollinator gardens are for bees and hummingbirds, they definitely challenge our traditional aesthetic ideas of public space (nature is messy, Colonialism likes sharp lines), and of course operational changes would have an impact on landscaping budgets that we would need to consider. So progress, but probably slower than you might like.
As for trees, we are finally at a point where we can begin the serious tree-planting part of the Urban Forest Management Strategy the City adopted a couple of years ago. It has been a bit of time in coming, as staff first wanted to put their energy into getting the new Tree Protection Bylaw operating smoothly, and get caught up on some of the tree pruning and maintenance backlog (it makes sense to stop trees from going away before we start the work of putting new ones in). The plan is aggressive, with almost 12,000 new trees planned in 10 years. Most will go on City Boulevards prioritizing neighbourhoods like the Brow and Queensborough where the tree canopy is not as dense, and in un-programmed green spaces in City parks. There is a real short-term cost to taxpayers for this program, but our willingness to invest today will make for a much more livable city in the decades ahead.
The phrase I have been repeating since we started this Urban Forest Management Strategy is the old saw "The best time to plant a tree is 20 years ago, the second best time is today". Well, today has come, and I'll see you in 20 years.